This page is dedicated to my former work colleagues in the business where I think I had the most fun in the aviation world, albeit hard work, at the now ceased trading, Centreline Air Services: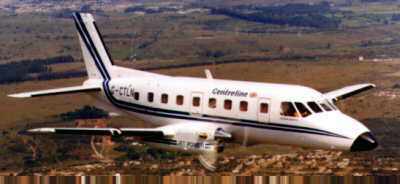 The Centreline Embraer Bandeirante on Test Flight over Brazil just after manufacture.
(probably one of the best "work-horses" ever!)
---
Centreline was formed in 1978 by the following four people:

Myself (John Willis)

Richard Vipond

Andrew Vipond

Starting initially with a Cessna 310Q and a Piper Navajo Chieftain on standard UK and European Air Taxi work, the Embraer Bandeirante was bought by the Vipond's parent business for the Company's use in 1980.

The Bandeirante entered service on May 31st 1980 on a flight from Luton to Glasgow carrying the London "Times" newspaper, a contract that was operated 6 nights a week until 1983. In addition, normal daytime charters around the UK and Europe were operated, fitting in with the night contract. The Chieftain also operated a similar night contract for another newspaper on the same route 6 nights a week, making these two aircraft amongst the busiest in the UK, when the daytime operations were added to the programme.
With another Bandeirante, leased in from Denmark, in 1982, a special working arrangement was entered into with Dan-Air whereby Centreline would operate the Commercial department of the Dan-Air HS748 department in Aberdeen. All our aircraft were resprayed into Dan-Air Centreline colour schemes, and a Bandeirante was based in Aberdeen, the Chieftain in Glasgow, and the second Bandeirante operated on behalf of Dan-Air passenger scheduled service department daily from Bristol to Glasgow, via Cardiff, and return.

Part of the fleet on the tarmac at the 1982 Biggin Hill " Air Fair"
(l to r - Cessna 310Q, two Bandeirante's, HS748)
In 1982/83, the Dan-Air Centreline fleet were amongst the most active small aircraft operations anywhere in the UK, and an operation of which we were all proud to be a part.
---
Unfortunately, certain personnel in the Dan-Air HS748 commercial department were faced with major reductions in income and routes when a series of contracts were lost to a competing airline. Using privileged commercial information about the newspaper contracts operated by the two Centreline aircraft, they undercut the contract dramatically by operating at a substantial loss simply to gain regular flying to support their otherwise unsuccessful fleet. Overnight, Centreline lost, not just a major source of revenues and aircraft utilisation, but also the north/south regular traffic that permitted simultaneous basing in both Luton/Biggin Hill and Aberdeen/Glasgow.
After a valiant struggle to continue - well supported by Higgs Air Agency (the actual operator of the Newspaper contracts) who allowed us to substitute on a Luton/Dublin contract as an attempt to keep us in the running - the Directors were faced with the decision to cease operations to curb further potential for losses.
So, largely as a result of the earlier decision to link our future to the tie up with Dan-Air, that same link was the one that put us out of business. (apart from the sadness over the loss of jobs by a large number of excellent personnel on the ground and in the air, I have to admit to almost feeling joyful about the ultimate collapse of Dan-Air some time later. It couldn't have happened to a nicer bunch up their in their head office!)
Apart from the personal sadness of being unable to continue the operation I started, the greatest regret is still that Centreline was undoubtedly one of the most efficient and hard working operations that I have ever had the privilege of working with. The staff, with no exceptions, were the best bunch of people anyone could hope to meet during a working life, and I miss the many staff with whom I have lost touch.
---
This page is dedicated to all the following, with grateful thanks for the times we had:
Andrew Vipond - now running a successful manufacturing Co
Richard Vipond (the money man!) - unfortunately now deceased - a true gentleman and someone I am personally proud to have been associated with
Capt Mike Hogan - now a well respected TRE/IRE. Spent about 13 years flying Citation 2's and 6's with Quantel, until they ceased operating aircraft. Then flying on AirBus Freighters with HeavyLift until they ceased operations. He worked for a short while for Tom Walkenshaw of TWR Racing (Arrows, etc.) on a Challenger, until TWR closed down in early 2003. Now very settled flying a Global Express for an Arab firm (the same one that employs Steve Harris) Still a close friend now, and best Chief Pilot I could ever have hoped for.
Capt Robin McCaw - previously an airline Captain in Australia, now based in Jeddah, although his family home is in Australia, flying on exec jets for an arab organisation
Capt Art Legg - straight out of the RAF and into the deep end - retired in 2001 from his job as an Airbus Captain in Taiwan
Fiona Morrison (Pringle) - probably the best Ops Controller/Manager I have ever worked with (sadly I believe no longer in aviation). Actual whereabouts unknown now.
Capt Ernst Veld (alias "the Flying Dutchman") - Located again after 27 years in May 2009, no longer in aviation (shame!) and living in Holland now...
Capt Steve Keating - our very first employee as a pilot, shortly after he gained his CPL, now retired after career in British Airways ending up on 757/767's. Now living in Australia.
Capt Steve Harris - now captain of Arab Corporate jet, a BBJ (same firm as Mike Hogan works for)
Capt Bernie Clarke - left for airline job, and apparently spent most of his career flying with British Airways. Sadly, we were informed that, after a family problem, Bernie took his own life in October 2003. A sad loss of a very nice person
Capt Gerald Worley - from enthusiastic beginnings to excellent member of the team. Now a 747 Captain with British Airways
Capt John Quayle - living in the France and the Channel Isles with his wife Annette
Capt Frank Barker - who guarded our Isle of Man base in the latter months and worked for me again later in Nigeria. Has recently been located again and is now flying for Eastern Airways, although living in the Isle of Man, flying from there for them
Capt Dave West - from seat handler to Commercial pilot. We recently located him (Dec 2006). He is now a Training Captain with Cathay Pacific. Dave also owns and runs Loch Lomond Seaplanes in Scotland.
Capt Eddie Asquith - originally with Fairflight, and then with us in the latter months. Recently heard (Dec 2006) he is now a Captain on Airbus with BMI and we are trying to make contact with him.
Capt Fred Sheldrick - Dan Air pilot on secondment. whereabouts unknown now.
Capt Reg Stokes - Dan Air pilot on secondment. whereabouts unknown now.
Capt Geoff Goff - now retired after 20 years service with British Midland Airways, where he ended up as an Airbus Captain. Now enjoying sailing his boat around the Solent whenever he gets the chance. contact re-established in March 2010 after about 27years!
Capt (Dr) Dick Stanhope - Doctor by day, and commercial pilot in spare time and his holidays. Recently located again (Dec 2006). No longer flying, and is a Consultant Paediatric Endocrinologist at University College Hospitals London, and Great Ormond Street Hospital for Children. He also has a practice at The Portland Hospital, Great Portland Street
Thornton Simmons - ex Dan Air Operations Officer who found it difficult to get rid of me (we worked together again later). Whereabouts now unknown.
John Allen and his team of engineers at Luton, without whose line maintenance expertise we would have simply ground to a halt on those punishing night contracts. (contact lost with him)
Ian Cranfield - who bravely manned the Dan Air Centreline Commercial office in Aberdeen for us (Now working for Toyota I think)
To Jenny, who first took the Ops from me and let me concentrate on the commercial side, before leaving to go to RTZ Ops. Current whereabouts unknown.
And especially to Julianna (Fowler) who helped me run Operations when we started, and helped with virtually everything else as well before leaving us to go to the USA (a great loss to both me and the Company, for lots of reasons!).
Finally, a big thanks to all those who worked for us in a variety of roles under contract - Paddy Casey (who kept us mobile and the aircraft clean and configured), David Merritt (who did all our printing), All at Richards Longstaff (who looked after our insurances), Geoff Rosenbloom of Air Charter Scotland (who did everything he could to help us in Glasgow), Jim Wilson who was one of Geoff's team at Glasgow, John (johnnie Clemm) Clementson, Chris Bond, Phil Lowe, and their team at Ralph Scott's Express Aviation (whose maintenance scheduling kept us serviceable with absolutely minimal "at base" down time), Wendy Motley from Biggin Air Traffic who often helped us get in and out of the airfield outside hours, and to anyone else whose names I have forgotten after all this time (with apologies!)
---
And to the man from 748 Commercial (last heard of with British Aerospace) who caused the problems in the end - Stuart Wheeler - I hope you get what you deserve in time!!!!!!!!!
---
If any of you read this, please make contact again - it would be good to hear how you are getting on.
---
Anyone else who might know the whereabouts of any of these guys where we show no contact, please drop me a note - thanks
---
Email me: john@johnwillis.co.uk
Site prepared, maintained, and sponsored by John Willis
Please take the time to visit our sister site at Salema-Algarve.com for holiday rentals in Salema, Portugal